Hello Friends!
I'm sorry for the lack of posting on here. It's been slow on our end as we are still in transition our previous Joomla format to a newer updated website version.
For the time being, we have a treat for YOU!
As we are still in the winter season, behind the scenes at our local amusement park has been really busy with their preparations for the upcoming summer season!
I'm very pleased and honored to have a wonderful chat with general manager and vice president Mike Fehnel of Dorney Park & Wildwater Kingdom in Allentown, PA.
I got some nice insights of where he got started and as well some sneak peeks of what's coming ahead in the 2016 summer season at Dorney Park.
Special Thank You for Mike Fehnel for taking his time out of his pre-season duties to talk with us!
(*Note: Pictures on this blog was used with permission to be posted online. © Mike Fehnel © Cedar Fair L.P.)
On with the interview!
===
(*Note: Dark blue font will be Mike Fehnel's response to my questions. Enjoy!)
© Mike Fehnel | © Cedar Fair L.P.
1.) What got you started to work in the amusement park industry?
MF:
I started working in the games department when I was 14 years old. My older sister had a job in merchandise and it was easy for me to take advantage of having a ride to the park. I remember being so proud of obtaining my first job. I was always a fan of midway games, thus it seemed as though it would be a fun summer job.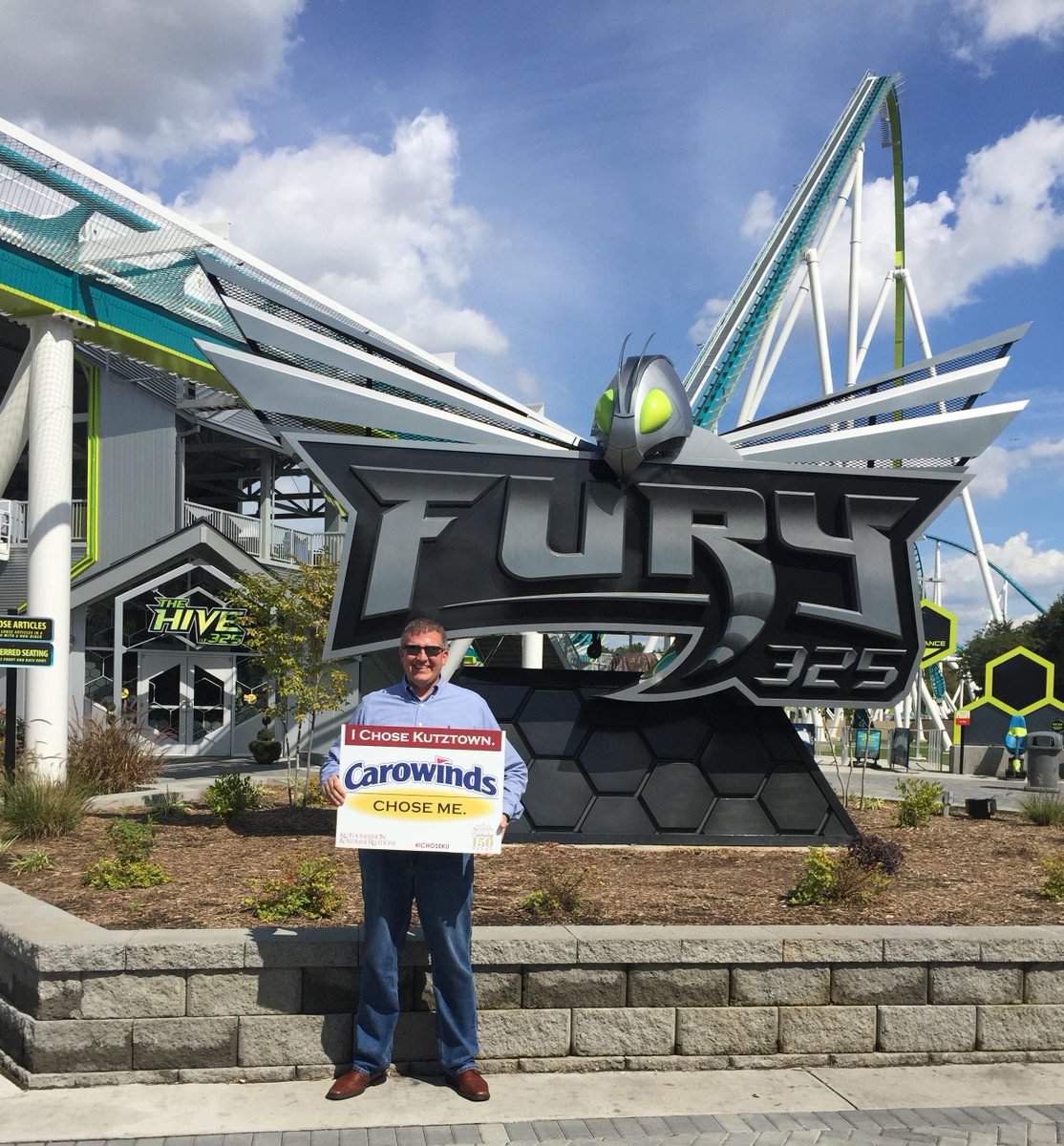 © Mike Fehnel | © Carowinds
2.)
Was working for the amusement park industry your long-time dream job?
When I was younger I had always planned on being a teacher. My degree is for elementary education from Kutztown University. Somewhere along the way the amusement industry "got into my blood", which is something many of us in the industry talk about. I guess it wasn't my early intent for this to turn into my dream job, but it certainly has become the result!
3.)

How did you get where you are now?
There is no one reason, or secret, to how I landed in my current position. To succeed in any job, you need to have patience, dedication, respect others and have a desire for continuous improvement. The beauty of the seasonal amusement industry is we have the opportunity each year to look back, make improvements and try to make every year the best ever.
4.)
If someone wanted to join the career path you took, what type of education would you need to succeed in this type of career choice?
My colleagues and I have varying educational experience that can range from any of the fields of study you can imagine. It is certainly important to obtain a degree, however it is of equal importance to have experience in the industry. It is incredibly beneficial to have the perspective of working at multiple parks and for different companies.
5.) Is there any fun perks of being in your position? What are your favorite perks?
Working at an amusement park is the best job in the world! It is our job every day to deliver the best day of the summer to our guests. We create memories that literally last a lifetime. One of my earliest memories as a child is from riding the train at Hershey Park. I was entrusted with a bag of gold by a sheriff before the ride. He tasked me with keeping the gold safe from the bandits. Sure enough halfway through the ride some bandits came along and stopped the train. I hid the gold under my seat and did not give in to their requests. At the end of the ride the sheriff rewarded me with a badge. I was probably 3 years old when this occurred, however I can recall it as vividly as if it occurred yesterday. That is the power, and responsibility we have running parks today as we continue to create memories for our guests.
I've also been the coolest dad at day care, as all the kids always want to know what is new at the park. My kids also have incredible access to the park, and I love taking them with me while checking out the park in the morning prior to opening.
Mike Fehnel officially opening 'Snake Pit' at Dorney Park & Wildwater Kingdom in 2014.
1.)
Are you a 'dry guy or wet guy'? (@MFehnel: 10 Billion points if you know what I'm talking about that relates to Dorney)
10 Billion points to me!!! I'm a 'dry guy'. I personally prefer the coasters to the slides, however my kids LOVE both.
2.)
Are you a coaster fan of wooden/steel? What are your favorite(s)?? Top 3 rides??
Am I allowed to love both? My top 3 are FURY325, Millennium Force and El Toro.
3.)
Is your job duties the same by day to day or does it changes based on the current activities during pre-season, mid-season, and post-season?
What I love about working at a seasonal park is the constantly changing work day. I love the planning of the off-season, but it is exciting to see the plans come to life as we open and judge the results. Haunt is always a fun break from the daily routine, as we have meetings to discuss all the disgusting or supernatural things that will bring the event to life. It is always sad to close out a season, however it is fun to reboot and fuel the park for another season.
4.)
What is it like going to another park as the new GM and VP for example Carowinds and then later coming back to Dorney Park?
It all comes down to observing and being part of a team that has the same goal, but finds other ways to execute the plan. After spending time at another property your eyes open to other ideas and plans. In the end of the day, we strive to find best practices to execute at all parks.
Mike Fehnel announcing Fury 325 coaster at Carowinds
(*Click on the image to view large)
5.) While having many position changes within your career in your life, what was your favorite and why?
There is no doubt my time at Carowinds will always be a highlight for me. It is not every year that you have the opportunity to relaunch the brand of a park, execute outstanding events such as Taste of the Carolina's, and debut a world record breaking roller coaster. That said I look forward to future projects and events at Dorney Park. I absolutely love the history behind a park that started entertaining picnickers in the 1860's.
('The Coaster' in the white coaster track layout before it was later named to 'Thunderhawk'.)
6.)
Will there be any fun new things for the 2016 season that you can share with us?
Right now we are focusing on Thunderhawk and celebrating one of 10 oldest operating roller coasters in the world. We will also have exciting new and returning special events.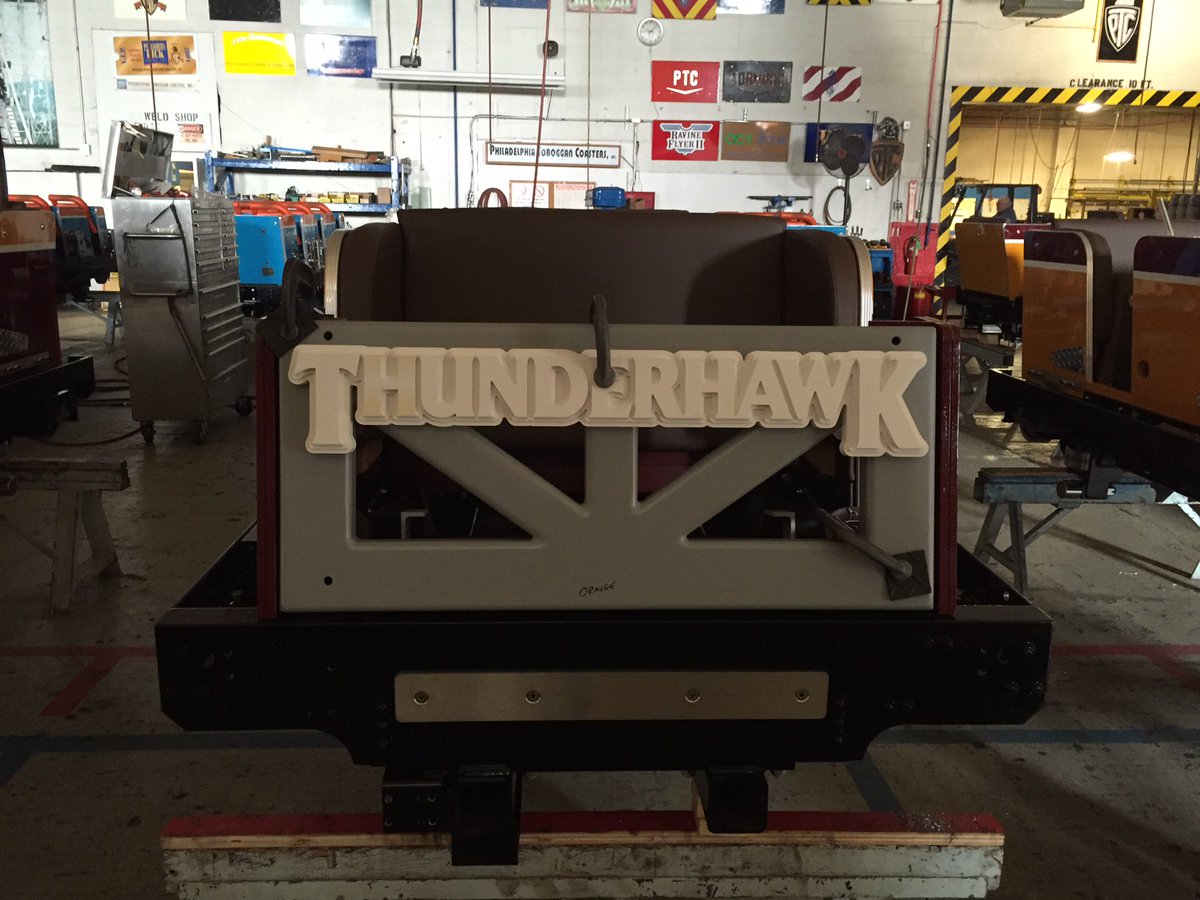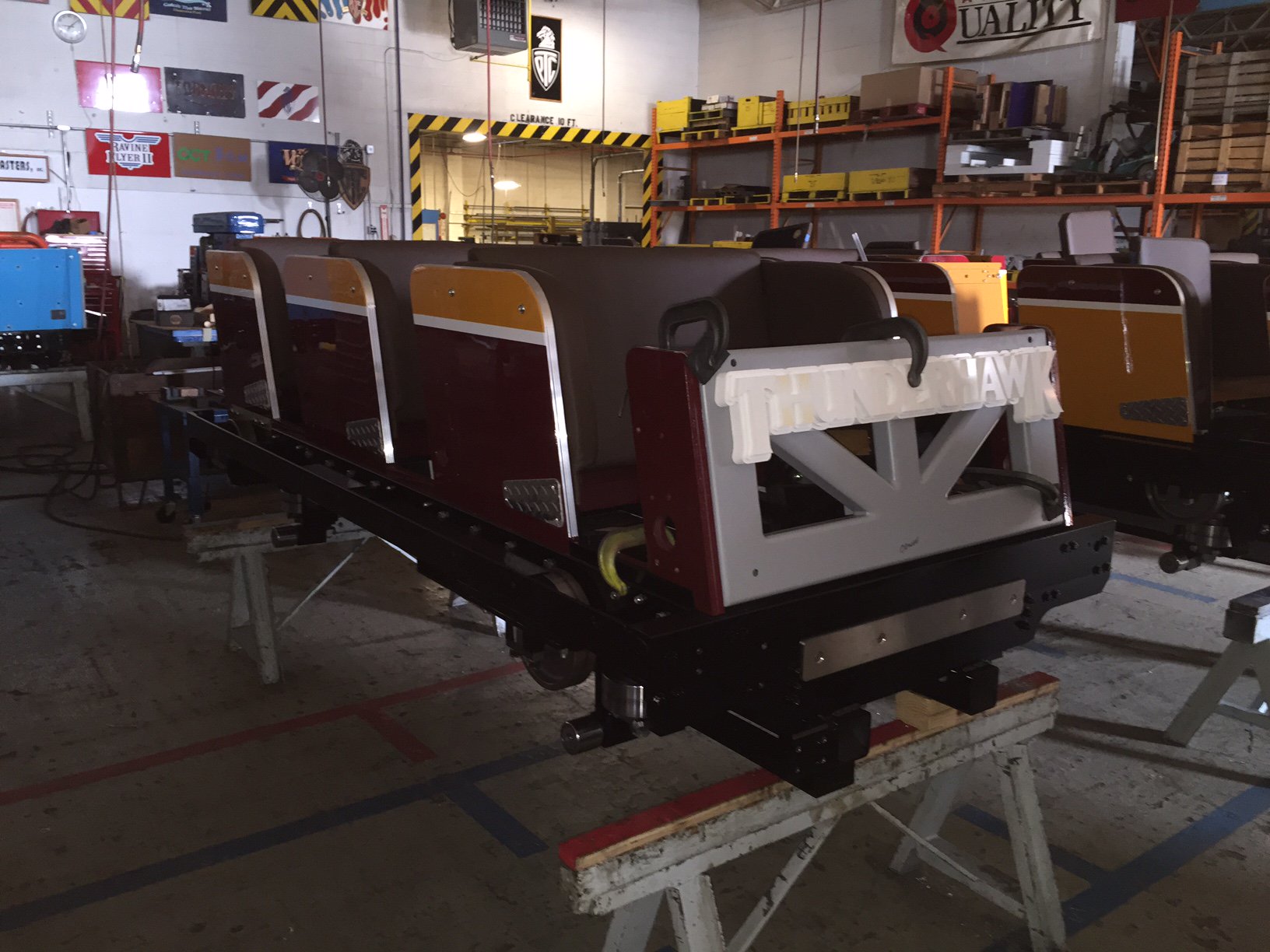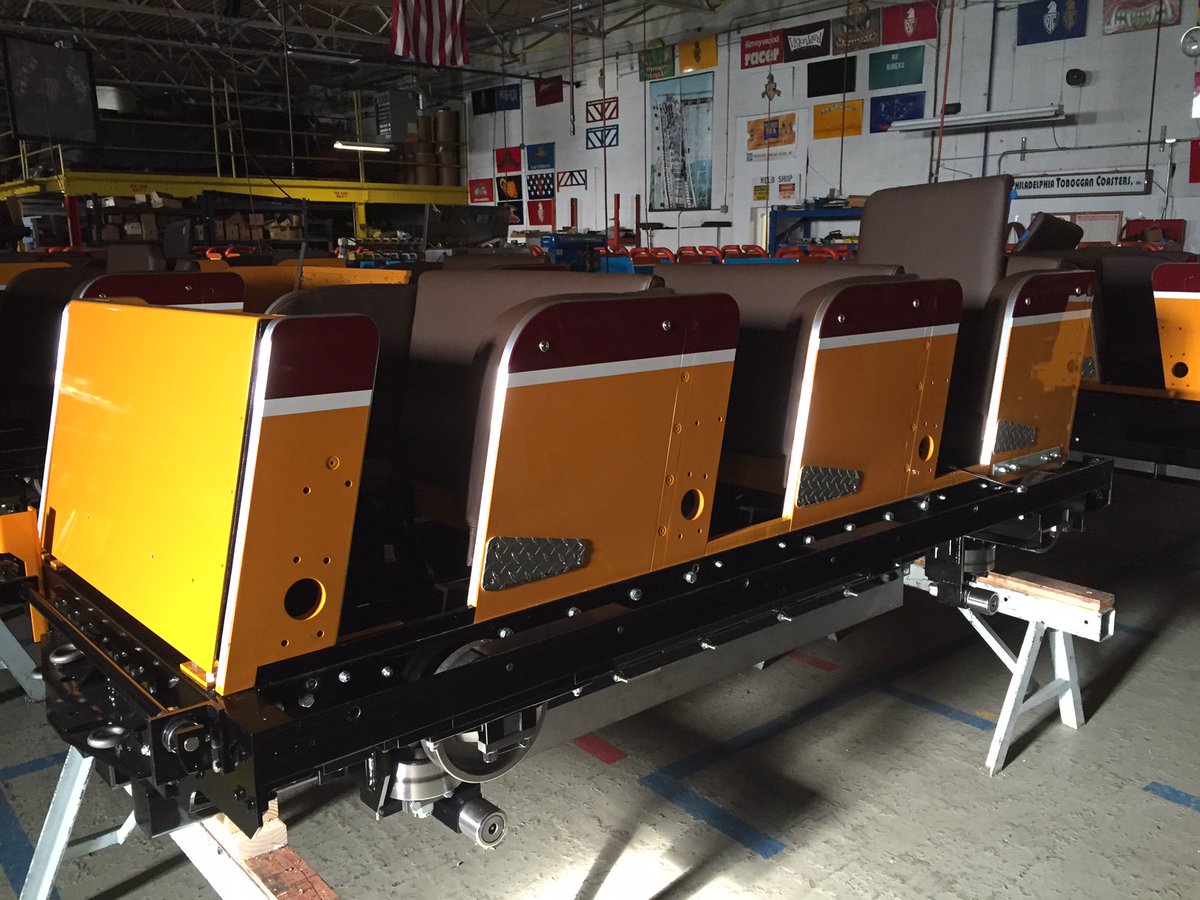 Thunderhawk will be receiving a pair of new trains from the Philadelphia Toboggan Company, known as PTC, that feature more modern upgrades with a classic look. The trains will replace the older PTC running stock that have been on the coaster for many years.
The concept art for the trains can be seen above on the first picture, showing off a nice open-air front car with the ride's logo attached to it. The trains will feature two main colors (blown up in size on the left), a deep shade of red that is accented with orange near the top of the car. The concept photo above notes that the colors will be inverted on the second train to differentiate it. The trains will feature individual lap bars and at least if we go off this art there will be no seat dividers or headrests.
Thunderhawk is the 8th oldest wooden roller coaster operating in the United States, and the 10th oldest on the planet.
©
Philadelphia Toboggan Company
The park also sent to us this original contract document that PTC shared with them, from when Thunderhawk (then known just as The Coaster) was going to be built. You'll have to click for the larger image to read it, but this is a wonderful find for those who appreciate roller coaster history!
The contract is between PTC and Richard Rusk and R. L. Plarr of Dorney Park for "all the cars, machinery, plans, specifications, etc." needed for the instillation of the coaster. The total for the ride's train, machinery and chain and the ride's plans came to a cool $9,673. In addition, the contract covers the services of ride designer Herbert Schmeck at $17 a day plus expenses. Such a neat document to be able to read!
:: Questions related to online gaming: Themagical/DorneyOnline ::
© Dorneyonline.com | © Dorney Park/Cedar Fair L.P.
1.)

How have you heard of Themagical.nl simulations / DorneyOnline.com's 'Steel Force

®' simulation (respectively each site)?
I have played the Steel Force simulation, although I don't think I can consider myself a master at this time…
2.)
Have you heard of Themagical.nl website before?
3.) If you had a choice of picking the 'next' dorneyonline simulation, what would it be?
Although it is not a Dorney Park coaster, I think FURY325 would be a great subject for a future simulator!
-----
I hope you all enjoyed reading this special interview and as well an interesting look 'behind the scenes' of an amusement park general manager and vice president of a Cedar Fair L.P. park.
We greatly appreciate Mike Fehnel of taking his time for giving this special interview. We thank him for also providing 'behind the scenes' look at what's happening at Dorney Park for the 2016 and some personal pictures while at Dorney Park and Carowinds.
Until Then,
Reighard