© Disney | © Themagical.nl
As today marks 3 1/2 years in current development of the 'upcoming simulation' for Themagical.nl
It's been a long progress of building and coding this simulation from the 'blue sky phase > research,
concept design, development internal testing ...' .
We are still at 'internal testing' due to the previous status from our simulation developer Josh Stauffer who's been very busy working on this project.
Quick recap to Josh's post in May 20, 2014:
"
Just sent
Randy Reighard
and
Martijn Leseman
an updated version of Soarin' to check out. If all goes well, I smell some beta testing around the corner.
" - Josh Stauffer May 20, 2014 via Themagical's Facebook Group Page.
As we prepare for the upcoming simulation, we've made the page 'LIVE' so you can get ready to play once we announce the launch.
Just to remind you that we've haven't released a 'beta version' for our 'beta testers' quite yet. We have to enter that phase before we feel its ready for the public.
Here's our "Soarin Flight Status Chart" (updated):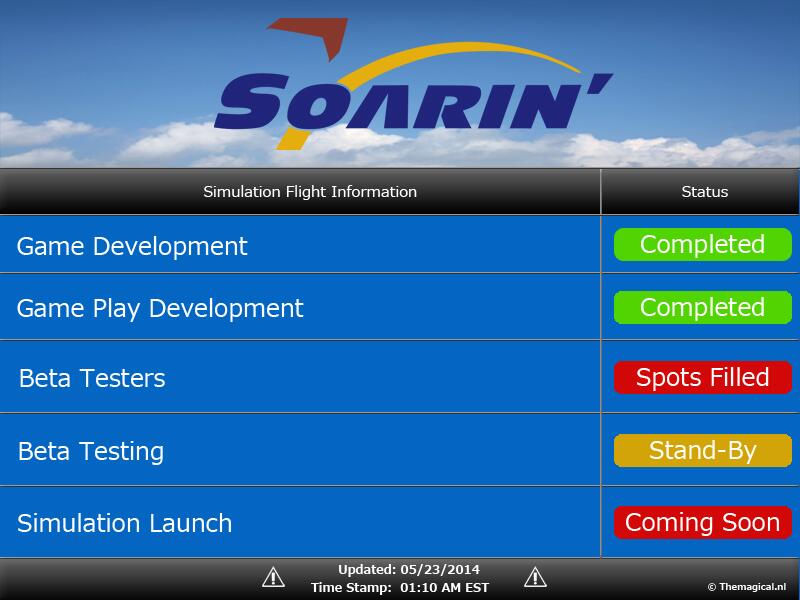 (*Click the image above to see it larger.)
We appreciate your support and patience as we are eager to release this new simulation. Make sure you keep your eyes peeled at our social feeds, this blog, and Facebook pages / Group Page for the latest updates!