==
Out Of Cycle Posts
==
We feel to bring this 'Out Of Cycle'
posts to bring attention of a Hurricane hitting the East Coast of United States. "Hurricane Irene" has hit several states badly and making its way up the Northeast Coast. Source: Weather.com (Weather Channel)
==========================



Hello Everybody!


As you may know the East Coast of the United States is getting hammered due to a Hurricane. Hurricane Irene is the current Hurricane that we are experiencing right now and reports on the East Coast has been not good.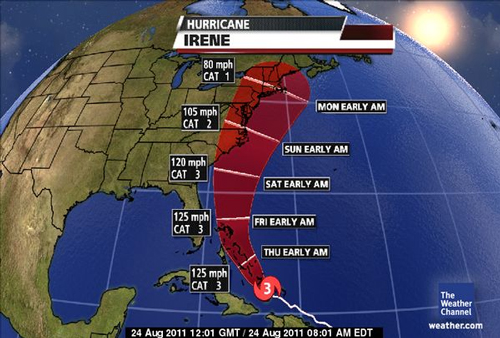 © Weather Channel



Winds have been from this storm 100+ and rain fall up to 10 inches and more. A lot of 'flash flooding' on major streams and rivers in many areas (including my area as well).

In my area we are expecting winds to be around 38+ and about 10 inches of down fall rain. The Gov. of PA has announced that civilians to not drive tomorrow (Sunday) if you can't see the curb of the street roadways and as well for a precaution if they need to head out.

Even my local amusement park (Dorney Park & Wildwater Kingdom) was closed today (Saturday) and will be closed tomorrow until Monday. That's even to be alert to know even they are closed. I know some stores will be closed tomorrow and even local Churches have post-pone service in the later evenings or closed completely for the safety of the congregation and guests.

For any major storm, please be safe and prepared in case of power and water supply turns off due to the storm outages.

Here's a small list of basic things to be prepared for a major storm like a Hurricane: (See a more longer extended list

here

.)


Bottled water (each person in your family needs at least one gallon every day for drinking and bathing)
At least a three-day supply of foods that won't spoil
Battery-powered radio and extra batteries
Flashlight and extra batteries

Sterile adhesive bandages (different sizes)
Gauze pads
Hypoallergenic adhesive tape
Antibacterial wet wipes
Antiseptic spray/antibiotic ointment
Rubbing alcohol
Hydrogen peroxide
Latex gloves
Scissors
Tweezers
Safety pins (different sizes)
Cold pack
Non-breakable thermometer
For those affected in the path of the storm Themagical Staff wants you to stay safe during this storm and be prepared just in case of this storm.
We'll return to our regular postings as normal after this storm passes by and if power is still available for posting.
Stay Safe!
Reighard