==
Out Of Cycle Posts
==
We feel to bring this 'Out Of Cycle'
posts to bring attention of a terrible disaster that struck the country Japan. This page wil
l be updated with new and current information sources.
==========================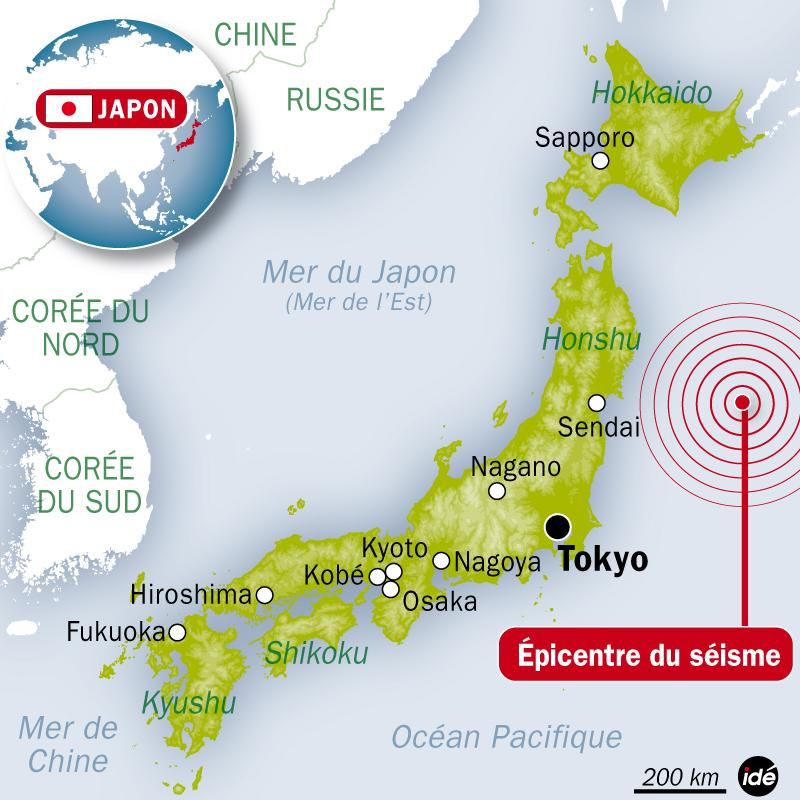 Today (3/11/2011), an approximate 8.9 magnitude earthquake struck near the coast of Japan, approximately 231 miles northeast of Tokyo at about 2:45 p.m. local time on Friday. Japan was hit by one of the largest earthquakes ever recorded on Friday. The magnitude-8.9 quake spawned a deadly tsunami that slammed into the nation's east coast, leaving a huge swath of devastation in its wake. Hundreds of people are dead and many more are still missing or injured.
Japan has often donated when other countries have experienced disasters, such as when Hurricane Katrina impacted the United States.
The destruction of some parts of Japan has been leveled to the point of only the foundations of buildings and houses were left. It's so heart wrenching to see the images of how badly this has been.
For concerns about a specific U.S. citizen in #Japan, please call 1-888-407-4747 begin_of_the_skype_highlighting 1-888-407-4747 end_of_the_skype_highlighting or email JapanEmergencyUSC@state.gov. http://go.usa.gov/4Ax
::New and Current Updates from the disaster (3/11/2011 Updated: 04/13/2011)::
Japan raised the crisis level at its crippled nuclear plant Tuesday to a severity on par with the 1986 Chernobyl disaster, citing high overall radiation leaks that have contaminated the air, tap water, vegetables and seawater. Link here (4/12/11)

7.1 earthquake (2nd time this month: 1st 4/2/11 & 2nd: 4/11/11) for Japan today. Warning for 3 foot tsunami (4/11/11)

UPDATE:

Warning has been lifted @5:25am EST

Tokyo Electric Power Company issues temporary evacuation of Fukushima nuclear plant following 7.1 magnitude earthquake (4/11/11)

A magnitude-6.5 #earthquake shook eastern #Japan off the quake-ravaged coast prompting a #tsunami alert: http://yhoo.it/h54MZC (3/27/11)

Officials found contaminants in Spinach and milk products from radiation. (3/18/11)

Japan quake may have shifted Earth's axis & shortened each day by 1.8 microseconds, says JPL scientist: http://1.usa.gov/ie53PT
The Walt Disney Company is making a $2.5 million contribution to the Red Cross to help aid in the disaster relief. The company has also coordinated a charitable giving program for all Disney employees and will match donations, dollar for dollar, up to an additional $1 million. (3/15/11)

All the foreign CMs at Tokyo Disney Resort are being given the option of going home. OLC is picking up the tab. (3/15/11)

Over 460 aftershocks

Japan has felt since Friday (3/11/11) , yesterday (3/14/11) and today (3/15/11) 6.5 aftershocks quakes has been felt again in Japan.

3 reactors

are under possible "meltdown" and 1 under fire. (3/16/11)

3 explosions

of one of the Nuclear Plants in Japan on the binge of a meltdown. The

radiation exposure level

is currently at

*

#6

!

(*See graph below)

Tokyo Disneyland will be closed for the next

10 days

as the country cleans up from one of the worst earthquakes in a generation, the Kyodo News agency reported early Sunday.
Tokyo Disneyland, DisneySea will be closed and to be reopen is unsure at this time. The Walt Disney Company offices and Disney Stores are closed and has been advised foreign cast members to go back to their home countries. Walt Disney Co. will be picking up the tab to fly them charter class flights to their countries and back to Japan once things are cleared safe to return. (3/23/11)


The following is from the official Disney website.

Update – Tokyo Parks
Date: 03/12/2011
Tokyo Disneyland and Tokyo DisneySea suspended operations today due to the effect of the Tohoku Region Pacific Coast Earthquake on 3/11. Theme park operations will continue to be suspended tomorrow and thereafter.

TDR will target 3/21 for a decision and notification on when to expect operations to resume.

This earthquake did not cause major damage to the facilities and building in the theme parks, and TDR has already proceeded with safety verifications.

The decision on the timing of restarting operations will be made carefully, taking into account the safety of the parks, and the recovery of transportation systems as well as the neighboring infrastructure. (UPDATED: 4/13/11 : Oriental Land Company released this: Reopening Date: April 15, 2011 Operating Hours: 8:00 a.m. – 6:00 pm Link to article here! )


The Disney Parks Blog has confirmed that no major damage has occurred at both Tokyo Disneyland and the new Aulani Resort, and most importantly, that nobody died in the park. More, from the Disney Parks Blog.

In Tokyo, our Resort Operations team has reported only minor damage. There are no reports of any major injuries though several people were treated for anxiety after the quake. In an abundance of caution, Oriental Land Company has decided not to open Tokyo Disneyland and Tokyo DisneySea tomorrow (Saturday) to allow for teams to thoroughly inspect the parks.

In Hawaii, the Aulani resort, which is still under construction north of Honolulu, has been unaffected at this time by the tsunami waves that traveled east. The Aulani team will continue to monitor the situation as the day progresses.

In Southern California, the tsunami waves are not expected to impact the Disneyland Resort operation, but cast members who live near the California coast should remain cautious.

The Disney Wonder is currently near the Mexican port of Cabo San Lucas. Because the Port of Cabo closed to cruise ships this morning, we have altered the Disney Wonder itinerary to include a day at sea today.

There are no Adventures by Disney trips operating in this part of the world at this time.

The picture above show the location of towns with more than 500000 inhabitants and distances from Fukushima nuclear plant. (3/16/11)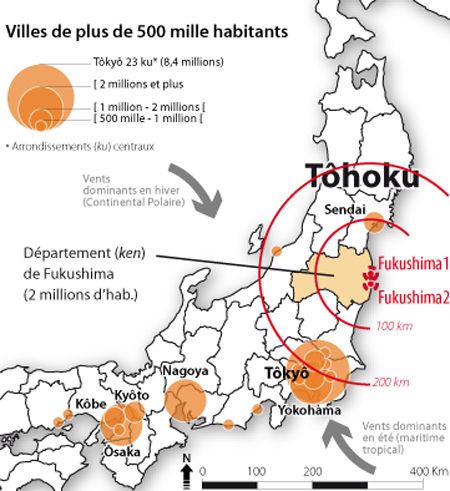 Our hearts, thoughts, and prayers goes out to those who are affected by this and we encourage if you can help to support these people in need.
Please visit your local help disaster relief organization to donate or visit their website as well.
Thank you for your attention, we'll return to our regular postings momentarily.
Sincerely,
Themagical Staff