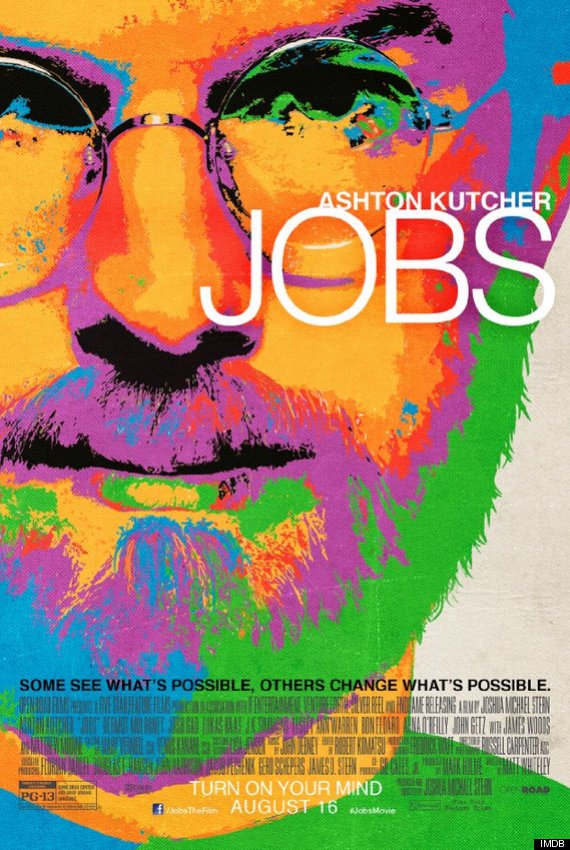 As you pretty much know about the above image. "JOBS" . For those who aren't aware of this new released movie (starting today in the U.S.) what this movie is about.
::Short Summary::
Starring
Ashton Kutcher
as
Steve Jobs
, and tracing the Apple co-founder's career from his early years in that Palo Alto garage to his rise as one of the computing industry's most admired innovators. By focusing on the key moments that drove
Jobs
' success and the conversations that made him such a controversial figure among critics,
Stern
and screenwriter
Matt Whiteley
present an intimate portrait of a driven, deeply complex man who dedicated his life to revolutionizing the way we use computers. 1)
Rated: PG-13 **For Drug Reference and Brief Strong Language
============(Notice: The embed videos isn't enabled for mobile users. Sorry!)
Second Video Link (Chris Prillio Review): www.youtube.com/v/jLO0JqNdNS4?hl=en_US&version=3
============
::Personal Take::
From the preview trailer, I can take some notes that this is a small tidbits of things that 'Steve Jobs' did in his early years of life. Now, as those who followed 'Steve Jobs' career know that the filmmakers missed a lot of important events. One example is when 'Steve Jobs' acquired Pixar in 1986 but in the movie its not even mentioned.
Why should you watch this movie, you've asked? Well, I think its important how 'Steve Jobs' not only was a world changer in the technology aspect but how he was involved with Pixar by which today is the largest grossed CGI animation studio to date!
Steve helped created the booming technology that many thought it wouldn't happen or if it did would only loose its buzz in the end. He helped in the early 90's & mid 90's bring back the personal computer to a new re-fresh twisted and re-invented the personal computer.
We all know by that revamped made Apple become the largest grossed company in the world and as well still booming in the creativity of technology products that is changing on how we use it in our daily lives.
::Closing Thoughts::
I recommend watching this movie. For myself, I will be watching and as well admiring how people help change the world through the medium of the personal computer and technology.
But as well how Steve Jobs helped the company Pixar become the largest CGI animation studio that we all love to this date.
For any Disney & Apple fan (and Apple user), should watch this movie!